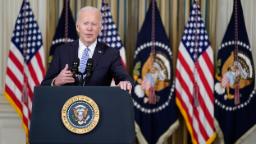 Putin has acknowledged two adult daughters.
The Biden administration is also eying an expansion of sanctions on Sberbank, Russia's largest financial institution, and Alfa Bank, another large lender, the official said.
The new sanctions package will ban all new investment in Russia, increase sanctions on financial institutions and state-owned enterprises in Russia, and sanction Russian government officials and their family members.
This is a breaking story and will be updated.